Technician Careers
Benefits
Professional memberships for licensed technicians
Licensing and Dues paid for licensed technicians
Unlimited CE
VIN, @Dove, and ACT memberships
Competitive Salaries
Competitive Paid Time Off
Not open for appointments on Saturday or Sunday
No after hours emergencies or on call.
Major holidays closed
Uniforms provided
Health Insurance
Employee Assistance Program
Retirement Matching
Financial Advisor
4 or 5 day work week
Maternity leave
AFLAC discounts
Teammate Referral Bonus
Tuition Reimbursement Plan
What are We Looking For?
Teamplayer: Someone who has a common goal of helping patients and clients while holding our standards high.
Teacher: Willingness to share your skills and knowledge. As you grow in your career you bring others up with you.
Learner: Someone who can't get enough and wants to learn more and more to better help the team, patients, and clients.
A Doer: Someone to be a person of action not just someone who merely sits around waiting for a solution from someone else.
Customer Service Superstar: Someone to listen to what clients need and go above and beyond. Wowing them with an amazing experience.
Communicator: Someone who connects with teammates and clients in a forward thinking, solution driven manner with a focus on creating an amazing experience, not just an appointment.
Essential Qualifications
Registered veterinary technician certification or at least 3 years experience in veterinary hospital as an assistant.
Experience with Fear Free or Low Stress Handling preferred.
Ability to work some treatments on the weekend (very minimal).
Highly motivated, with a passion for animals and great customer service.
Demonstrate a commitment to ethics and honesty.
Strong interpersonal and communication skills
Our Need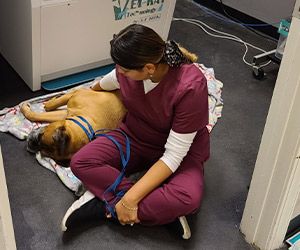 Our technicians / assistants are the backbone of our practice. If you are looking for a hospital to practice the skills that you learned in school or you want on-the-job training then we are the practice for you. We have a structured pay scale depending on your current qualifications and skill levels. We also have scheduled plans in place to help you advance in your career and grow to reach your full potential. With unlimited CE, clear expectations and goals, as well as an unmatched support team we will be the team you need to push you to your best.
If you love a challenging caseload where no two days are exactly the same and you value being a part of at team that is fun, confident, compassionate, and energetic, then apply today! We pride ourselves on a great standard of care, exceptional customer service, and amazing family oriented culture. We invite YOU to be a part of it too!
Apply Online
Apply In Person
4016 River Oaks Dr #C2
Myrtle Beach, SC 29579
843-236-6080
Mon – Fri: 7:30am – 5:30pm
Saturdays: 8:00am – 12:00pm