Heather Duncan DVM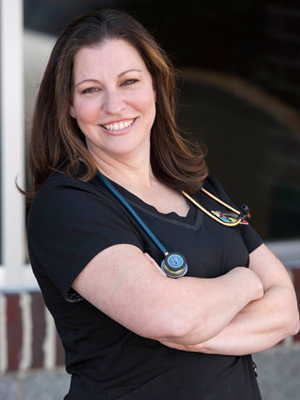 Dr. Heather is River Oaks Animal Hospital's fearless leader. She opened the practice on June 2, 2014 which also happens to be her birthday. What a birthday present! She spends everyday trying to make ROAH the best hospital along the Grand Strand by focusing on four principles: great preventative care, educating you on your options, and providing progressive medical services, all while providing exceptional customer service.
Animals have always been an important part of her life. She remembers the kitten she was given to help ease the trauma of moving to a new home; the Lhasa apso puppy named Simon that was with her from first grade through veterinary school; and the wounded and homeless animals her dad would bring home to help. She first learned about a career in veterinary medicine when she was in elementary school and, in her words, "It sounded like the most awesome job ever!". Dr. Heather is a native of Conover, North Carolina and graduated cum laude from North Carolina State University with a Bachelor's degree in Animal Science. While there she founded the Companion Animal Club. She continued being a part of the Wolfpack and graduated from the NCSU-College of Veterinary Medicine. Don't worry, we will still see UNC fans! Dr. Heather has a passion for continuing her education and is constantly learning new things.
The team at River Oaks Animal Hospital isn't her only family. Her husband, Michael was a client from her first year out of school. He made his first appointment with her because his cat, Juliet, had itchy skin. Afterwards he made appointments but didn't bring his cat. After a while his persistence was successful and now they have been married 15 years and have two beautiful children, Carter and Grace. There are also a multitude of other family members that share their home: Goose (Wirehaired Pointing Retriever), Marshall (Shih Tzu), Banana and Chip (Leopard Geckos), Bob (Bearded Dragon), and the Tortoises (Morty, Gertie,and Diamond).
Not that she has time for too many hobbies but she enjoys knitting, reading, watching movies with the kids, and furthering her relationship with Christ. Plus she can talk all day about 90's Hip Hop!