Client Advocate Careers
Benefits
Unlimited CE
VIN, @Dove, and ACT memberships
Competitive Salaries
Competitive Paid Time Off
Not open for appointments on Saturday or Sunday
No after hours emergencies or on call.
Major holidays closed
Uniforms provided
Health Insurance
Employee Assistance Program
Retirement Matching
Financial Advisor
4 or 5 day work week
Maternity leave
AFLAC discounts
Teammate Referral Bonus
Tuition Reimbursement Plan
The Basics
Minimum of high school diploma or equivalent
At least 2 years experience in a customer service role required
At least 1 year in veterinary industry preferred
Critical thinker who can manage multiple phone calls as well as clients in front of you.
Strong interpersonal, written, and verbal communication skills
The Need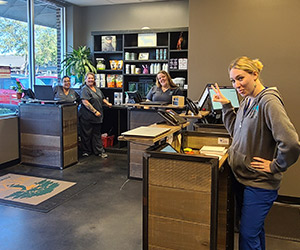 Our client advocates are the face of ROAH. You are the first and the last person a client sees so this role is very important. We WOW through customer service which means we go out of our way to deliver support to our clients and patients while creating an experience, not just an appointment. We are looking for people that have the following characteristics of great client advocates:
People First Mindset – Our team values human connections. You must have the capacity to stay empathetic no matter the situation, understanding that clients are regular people juggling everyday problems.
Effective Listening Skills – We want someone who makes more than just an effort to hear what a client is saying. Its about paying close attention to truly understand and better help them.
Excellent Problem Solving Skills – A typical day for any client service representative involves a lot of problem solving and client advocacy is no different. From simple inquiries to complex billing issues, client advocates will be tasked to solve client concerns and scheduling issues with a smile on their face.
Flexible and adaptive – Not everything goes according to plan. Sooner or later, client advocates will encounter a case they may not be prepared for. The more flexible ones will thrive in this fast paced and ever changing environment.
Good Organizational Skills
Detail Oriented – With attention to detail, you'll likely save a considerable amount of time doing rework due to human error or unnecessary client correspondence.
Patient
Strong Time Management Skills
Open to Feedback
Friendly and Respectful
If you love a challenging caseload where no two days are exactly the same and you value being a part of at team that is fun, confident, compassionate, and energetic, then apply today! We pride ourselves on a great standard of care, exceptional customer service, and amazing family oriented culture. We invite YOU to be a part of it too!
Apply Online
Apply In Person
4016 River Oaks Dr #C2
Myrtle Beach, SC 29579
843-236-6080
Mon – Fri: 7:30am – 5:30pm
Saturdays: 8:00am – 12:00pm