Veterinarian Team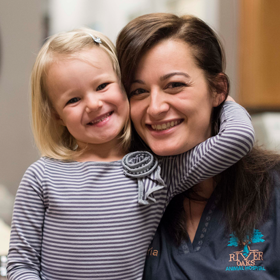 Victoria Loughman
Victoria joined River Oaks Animal Hospital as a HealthCare Nurse in November of 2015. Her responsibilities include assisting during surgery, post operative recovery, triage, dental cleanings, and diagnostic procedures. In 2017, Victoria also took on the role of Inventory Team Leader. This is one of the toughest jobs in the veterinary hospital as she is in charge of making sure we do not run out of inventory and negotiates the best prices for our clients. Her favorite part of the job is building relationships with pets and their parents. Victoria has a Veterinary Assistant certification from Lancaster Career and Technology Center.
Victoria has a passion for herbs and has single handedly kept many people in the Carolina Forest are from getting the flu with her special Elderberry Syrup. She has two kitties; Angelus and Twilight Sparkle. As you may have guessed by the second kitty's name, she also has a daughter Jordyn Rose. Victoria has become an indispensable team member at River Oaks Animal Hospital.
---
Loren Gitto
Loren joined the team at River Oaks Animal Hospital in May of 2015. She not only is a Veterinary Assistant but also our Boarding and Day Spa Team Leader. Her responsibilities include ensuring perfect Spa Day Experiences for our pups, assisting during examinations, preparing patients for surgery, and assisting with diagnostic procedures. She enjoys meeting new people and pets, as well as being able to help sick animals feel better. Loren has a Veterinary Assistant certificate from Brookdale College. At home, Loren has two pups, Titan and Sandy. Although she is tiny she is mighty! Her favorite thing to do is to go to car and truck shows and work on her Mustang. She asks off every year for Mustang Week! Our little Loren Bug is one of the sweetest people you will ever meet!
---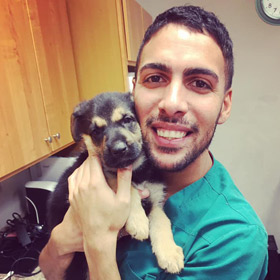 Emanuel Quinones
Meet Manny one of our amazing front desk team members! He is originally from Connecticut and has lived in Myrtle Beach for 5 months now. Manny has 10 pets in total; Two cats, three ferrets, two bunnies, two sugar gliders and a hermit crab!! By the time this is written and posted there may even be more. He enjoys going to the beach and avoiding bees at all costs. Manny's favorite part of the veterinarian field is being there for each client even if that just means being present and able to make them smile. He also loves witnessing the miracles and care that the doctors and nurses accomplish each day with every patient. Next time you stop in, say hello and send a huge smile his way.
---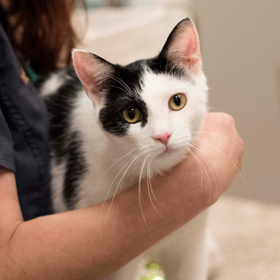 Ralphie
Ralphie is the newest edition to River Oaks Animal Hospital and was actually born here. His mother was scheduled to be spayed but it was discovered that she was VERY pregnant and so Dr. Heather decided to take care of her until she delivered. Ralphie is very attached to Sofia and they play all the time. He is also fond of kids and can be found stalking outside of the exam room doors if he hears them. He doesn't have any official duties because he isn't quite old enough for the responsibilities. You can usually find him "helping" out in the treatment room with the HealthCare Nurses.
---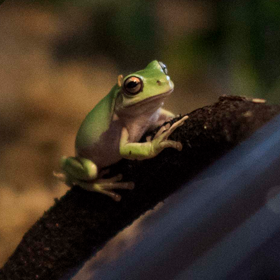 Newman and Kramer
Newman and Kramer are Dumpy Tree Frogs, also known as White's Tree Frog. They are arboreal frogs, meaning they like to live in the trees. This type of frog actually come from Australia but these two were captive bred so they were not taken from the wild. They are definitely use to room service and not so sure they would appreciate having to hunt for their food instead of ordering in. As the two age they will start to look chubby, this is normal and expected. Why can't that be normal for us?